I had posted this picture on my
Painting by Tinweasel Facebook page
and a teaser that I would be putting up something about it for a hobby tip - didn't quite get to it then, so making up for lost time now.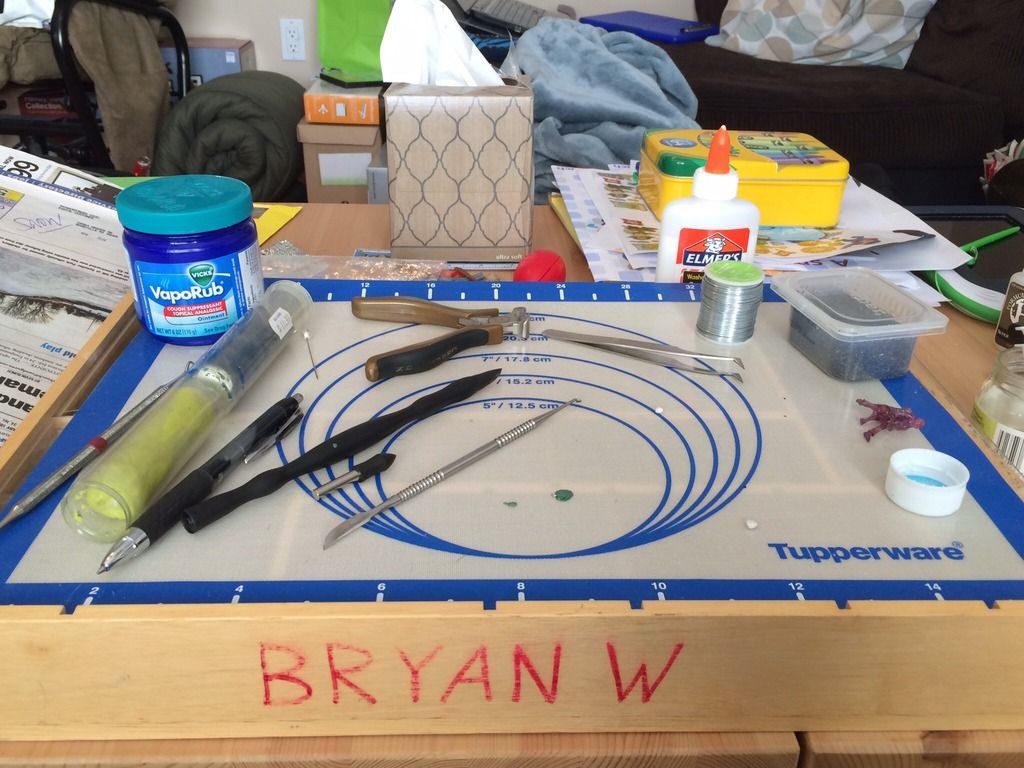 So I've got a couple of things going on in this picture related to epoxy putty sculpting. The main one I want to mention is the Tupperware baking sheet to sculpt on - this thing is great! It's made of silicone and for me is essentially a flat non-stick sheet to work from when sculpting. It rolls up for convenience, is non-stick to two-part epoxy putty and similar materials and is easy to clean off. Much easier than working on a plastic bag or lubricated sheet of styrene. It's officially called the "Tupperware Silicone Wonder Mat" and can be bought online or retail for roughly $20-25 US. (A little pricey maybe, but the use I've gotten out of this thing and the messes avoided have made it worth it.)
For another, I want to point out the Vicks VapoRub. Using this was a suggestion from
Joe Orteza
when I attended a sculpting seminar of his at GenCon 2014: use VapoRub instead of petroleum jelly to prevent epoxy medium from sticking to sculpting tools. Not only does it work just as well as petroleum jelly to prevent epoxy sculpting putty from sticking, it either gets absorbed or eventually evaporates from sculpting material, thus preventing lubricant causing problems when applying multiple layers of sculpting putty - it was an excellent suggestion by Joe that I've been using since!
Last, but not least, I wanted to show off a little! The green blob on the mat in the above picture is my first attempt at sculpting in a long, long time. I wanted to sculpt a marble bag for a figure's base with small plastic beads embedded in the epoxy putty for the marbles remaining in the bag. I'll have a bunch of loose ones scattered on the finished base when all's said and done. Here's how it turned out painted: